St. Olaf students and alumni in a debriefing session during a past trip. Click the image for more pictures.

"My trip to Nicaragua was more than a medical opportunity to collect data. I experienced the country through the people ... through those we saw and observed."

Recently, a new collaboration resulted in a positive experience not only between ISLA and St. Olaf College in Northfield, Minnesota but also between alumni and students. Nine students majoring in biology, psychology and nursing were chosen by their stellar work and heart for service. Their internships involved comparing and contrasting health care in the US and Nicaragua. This involved not only shadowing health care providers in the US, but also conducting public health surveys going door to door in six communities in the Jalapa district. Prior to leaving, Dr. Ted Johnson, Director of Biomedical Studies at St. Olaf, taught the students about world health and poverty, amongst other topics on a regular basis in the fall. Dr. Peter D'Ascoli and Dr. Therese Zinc, ISLA volunteers, taught the students in areas of public health and how to conduct surveys. Alumni medical providers provided a new concept of mentoring the students to not only "give back" but to also share in living out the the service component of the college's mission statement.

If you are a St. Olaf alum interested in mentoring a student on an ISLA trip in January, please contact the ISLA office listed below and click on Trip Dates to view the upcoming dates and application forms.
Article: Learning and serving in Nicaragua
by David Gonnerman '90 with Kari VanDerVeen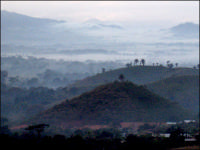 In January Nancy Carlson '82 led a class of nine carefully selected St. Olaf students to Nicaragua, where they worked to assess the health of rural residents in one of the poorest parts of the hemisphere.
Carlson, a nurse and a graduate of St. Olaf's nursing program, led the students on a two-week trek to serve the area through the Interfaith Service to Latin America (ISLA) program. Over the past quarter century, the nonprofit ISLA has developed a solid relationship with the city of Jalapa, Nicaragua, through its construction, medical assistance and educational programs.